Cargo Aircraft That Will Bring COVID-19 Vaccine To Kenya
It is a Boeing B767-200 Freighter, equipped with sophisticated technology and can carry up to 25 million doses of the vaccine in a single trip.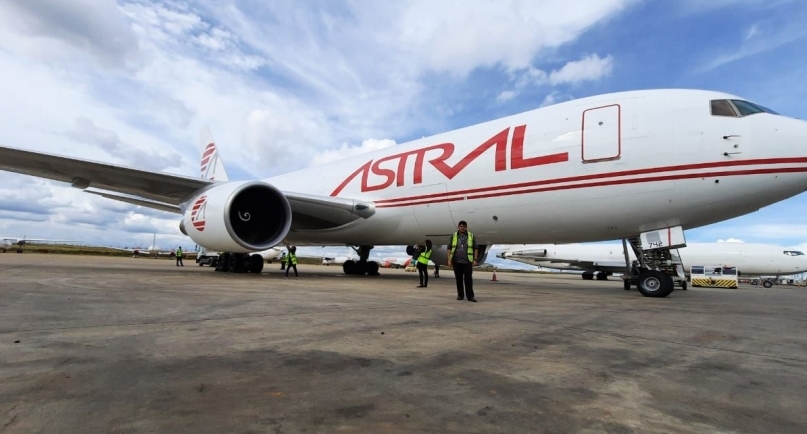 An Astral Aviation cargo plane at Jomo Kenyatta International Airport. /FILE
A cargo aircraft belonging to a private air cargo company will make its maiden journey from Kenya to India and back, carrying with it doses of the COVID-19 vaccine.
The plane that will depart from the Jomo Kenyatta International Airport (JKIA) in Nairobi is operated by Astral Aviation Limited, a licensed air cargo company that acquired its Air Operators Certificate (AoC) and Air Service License (ASL) from the Kenya Civil Aviation Authority (KCAA) in 2001. It was subsequently designated as a cargo airline by the Ministry of Transport in November 2006.
It is a Boeing B767-200 Freighter, equipped with sophisticated technology and can carry up to 25 million doses of the vaccine in a single trip.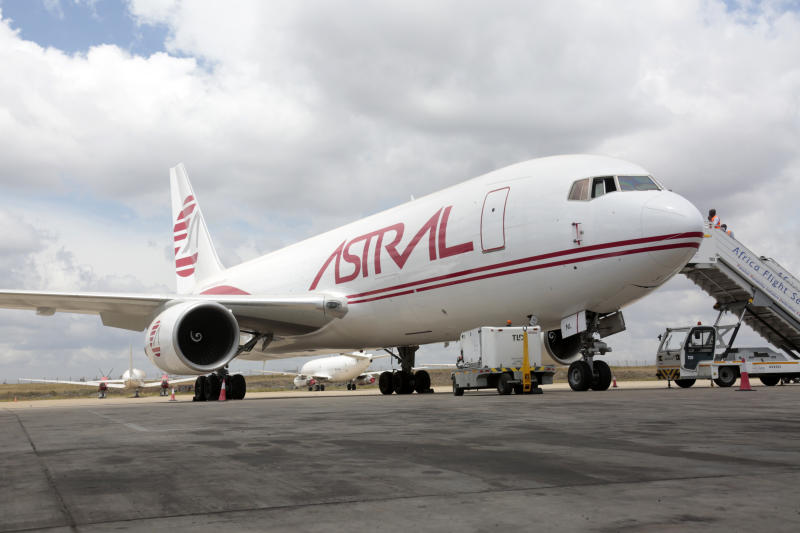 "The B767-200 Freighter has special temperature controls that go up to – 40 degrees Celsius. When the aircraft is flying high at 40,000 feet, the temperatures go up to – 60 degrees Celsius, but the inside of the plane remains warmer and, therefore, the pilots can adjust temperatures accordingly," Astral engineer John Owuor told the Nation.
The plane has thermal blankets that will be used to cover the vaccines as they are moved o storage upon arrival, ensuring that their temperature does not drop.
Sanjeev Gadhia, Astral Aviation CEO, added that the company's storage facility at JKIA can hold up to 100 million doses of vaccines. Recent studies conducted by Kenya Airports Authority, Swissport, ACHL, Mitchell Cotts, Siginon, and Astral show the total capacity of cold storage facilities at JKIA is 8,621 square metres (+2 to +8 degrees Celsius ) and 418 square metres ( -15 to -20 degrees Celsius).
This, therefore, means that just the airport can store double the capacity of doses at any given period.
"Given that JKIA has the most efficient cool-chain infrastructure for the storage of vaccines in transit to the rest of Africa, it would be viable if the Covax facility lets us distribute to the rest of the countries from Nairobi," Gadhia noted.
The Boeing 767-200F was acquired from Air Transport Services Group in October 2020 and has been operating the freighter on the Nairobi – Sharjah route from February 3, 2021, as well as the Nairobi-Johannesburg, South Africa route.
Its ability to retain fuel efficiency when flying with large amounts of cargo makes it a popular choice of air freighter. It is a wide-bodied airliner, one of the largest and heaviest models on the market and most-preferred for medium to long-haul flights. It has a 42-tonne payload and 350 cubic metres volume.
Astral will seek to benefit from national carrier Kenya Airways losing a bid last week to supply COVID-19 vaccines around the world after UNICEF settled on Astral Aviation, Ethiopian Airlines, AirBridgeCargo, Air France KLM Martinair, Brussels Airlines, Cargolux, Cathay Pacific, Emirates SkyCargo, Etihad Cargo, Ethiopian Airlines Cargo, IAG Cargo, Korean Air, Lufthansa Cargo, Qatar Airways, Saudia, Singapore Airlines and United Airlines. The deal was part of UNICEF's aim to provide equal access to the vaccines across the world.
It provides scheduled and charter cargo service to more than 50 destinations in Africa and Europe, with its fleet of B747, B727, McDonnell Douglas DC-9, BAE ATP, Fokker 50, and Fokker 27 freighters operating out of Nairobi and Liege hubs. Its fleet consists of 14 cargo aircraft and a network of 50 destinations in Africa and Europe.