Family Arrives at JKIA to Collect Relative's Corpse Only to Find It Was Accidentally Left in Germany Over Body Mix-up
Many young girls have been flying to the United Arab nations hoping to harvest huge fortunes only to die there. Some who have been lucky to return home alive brought nothing but regrets.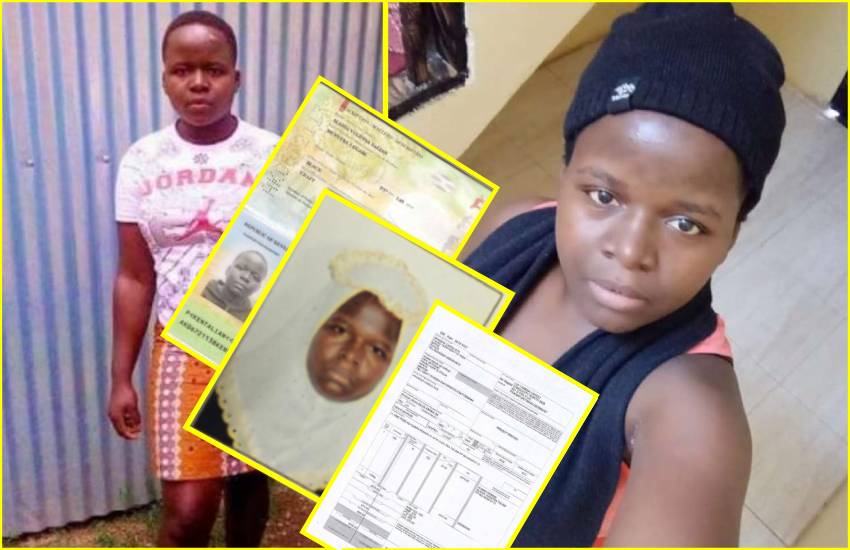 Vugutsa's members display her portrait and body transportation documents. [Photo/ File]
When they arrived at the Jomo Kenyatta International Airport (JKIA), a family from Western Kenya had hoped to receive Ms. Slaida Vugutsa's corpse expatriated from Saudi Arabia.
However, the family was shocked after being told that Vugutsa's remains had been left in Germany following a mix-up.
"It is disturbing that we traveled all the way from Western to receive the body of my sister only to be told it was not on the plane...," stated a family member, adding that they were told so after insisting to see the corpse.
They were however told that they will have to wait until Thursday (today). The family had reportedly hired a hearse to ferry them from Western at a cost of Ksh60,000. Further, the owner demanded an extra Ksh40,000 over the delays incurred.
The family could not be convinced enough over how the mix-up occurred, yet the consignment had been clearly labeled. They instead suspected that Vugutsa's corpse may not have been removed from Saudi Arabia yet.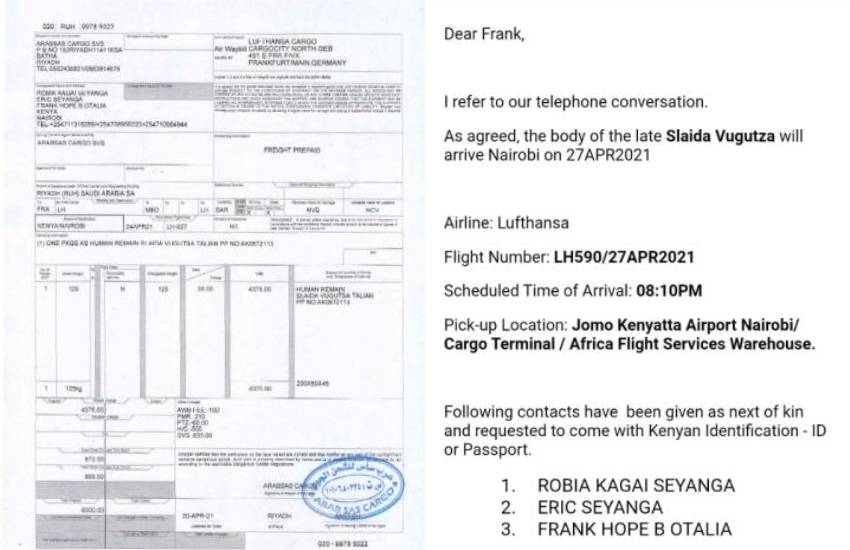 Vugutsa aged 21 reportedly vanished in 2020 where she is believed to have left Kenya for Saudi Arabia in search of greener pastures.
Her corpse was discovered in a thicket in Saudi Arabia on January 29, 2021. However, her family got to learn about her death on March 22, almost two months later.
It has taken the family about two months of mourning their beloved who died far away in foreign soils. The family would wish to lay their younger sister to rest, which will bring them a feeling of inner peace.
She is among many young girls who have been flying to the United Arab nations in search of jobs only to return lifeless and in caskets.
Her family recalls how she had only completed her secondary school studies and was hoping to facilitate her to join a college.
According to the family, Ms. Vugutsa had some of her body organs missing as per the reports given by the Foreign Affairs Ministry.
Upon being called by the Foreign Affairs, the family piled pressure on Ms. Vugutsa's agent until the agent agreed to facilitate her corpse's expatriation.