GSU Officer Shoots Self
Constable Paul Kuria Kinyanjui shot himself through the lower jaw using an AK-47 rifle, killing himself on the spot.
Image of a GSU officer. /TV47
A General Service Unit (GSU) officer attached to Chepchoina Camp, Trans Nzoia County committed suicide on Tuesday, March 9 after randomly shooting his two colleagues.
Constable Paul Kuria Kinyanjui shot himself through the lower jaw using an AK-47 rifle, killing himself on the spot.
The reason for the shooting was still unknown by the time of going to press. However, officers had been informed earlier in the day of a planned changeover.
Kuria reportedly opened fire on his colleagues shooting them in their lower cheeks. The injured officers are in stable condition and have since been airlifted to Nairobi for specialized treatment.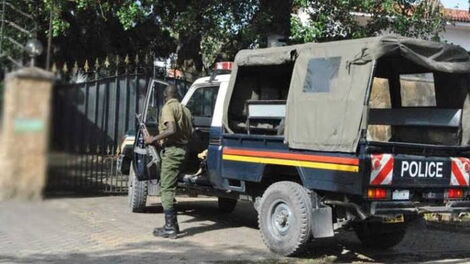 "He suddenly shot randomly injuring the two as others took cover. We don't know the motive," a senior officer told a local daily.
A probe into the matter has also been launched.
Police officers experience upsetting events in their line of work more often than other dangerous professions in society, events that have put their mental health on the line.
Most police officers today consider the handling of human remains and death scene investigations routine. These tasks are laden with emotional significance and are often accompanied by sights, sounds, smells, tastes, and touch sensations of the most unpleasant kind.
As human beings, officers are vulnerable to the emotional and sensory aspects of body handling and death scene investigation. With a very weak psychosocial support system at work, they develop mature coping strategies and responses on their own, that allow them to shrug off all but the most vivid of the death scene and dead body experiences.
However, due to the magnitude, horror, or bizarreness of these scenes, they leave indelible impressions upon the spirit of even the most experienced police officer. They may not show any outward emotional response but will develop or experience long-term psychological problems, with significant impairment.
In 2020, Inspector General of police Hilary Mutyambai launched a new program dubbed "Muamko Mpya-Healing the Uniform Initiative", aimed at supporting officers with psychological issues especially those exposed to traumatic experiences and in need of healing.
"The ultimate goal of the initiative is to provide officers with knowledge, tools, and a framework to assist them to support each other while handling traumatic situations," IG Mutyambai stated.