Is it magical money? Meet Kenya's Wealthiest Witch Doctor
Meet Annah Mutheu, Kenya's richest witchdoctor, who lives in a Sh40 million mansion and never misses church.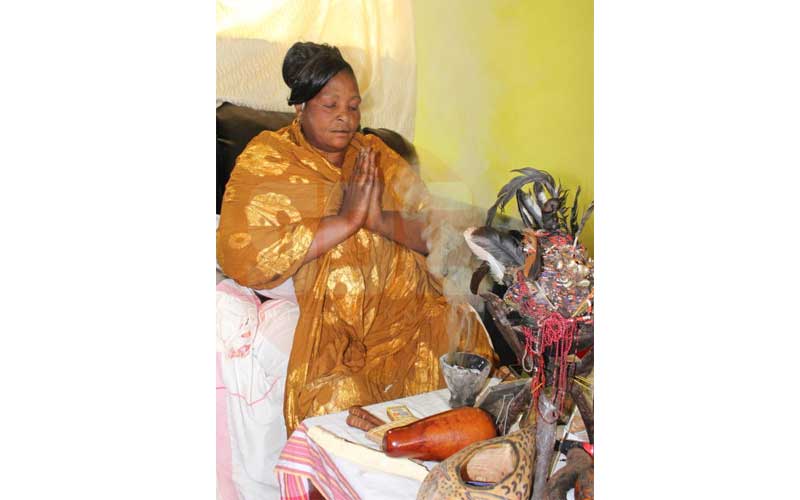 Annah Mutheu
Any African would most likely associate witchcraft with evil, as evidenced by movies and other real-life situations. Typically, witches are depicted as living in shacks, slums, forests, and other unsavory areas. In Kenya, witchcraft is mostly condemned by various religions, and it makes headlines when there is a bizarre incident associated with it, such as when thieves are apprehended or couples who have been cheating on each other are discovered with their genitalia locked into each other until one of them is compensated.
Most of these magic men' operate in secret, making it dangerous for anyone to confront them. They also have their costumes and tools of work designed in such a way that they appear frightening, instilling fear in their clients or members of the surrounding community.
However, Annah Mutheu of Tala in Kangundo, Machakos county, has decided to conduct the witchcraft business in a professional manner. She lives in pomp and has a lavish home worth 40 million Kenyan Shillings. She also has a fleet of cars and frequently jets in and out of the country like any businessman.
According to Reports, Annah Mutheu appears to be a politician's wife at first glance, but the truth is that she is a witchdoctor.
The former Katwii Primary School student admitted that she is a woman of means, and her juju business has made her wealthy, contrary to popular belief that witchdoctors live miserable lives.
Strangely, the 39-year-old mother of three, who prefers to be referred to as 'the boss lady,' stated that she has never missed church on Sundays and that the Bible has played a significant role in her healing business. She also revealed that she has spent a lot of money on her lavish home and appearance, which has attracted more clients from all over Kenya and the world.
Her home in Tala, Kangundo, Machakos County, boasts opulent cars and a luxurious swimming pool, and it is a hive of activity as clients pour in while others wait their turn. "Most witchdoctors live in filthy conditions, which is a turnoff." I made the decision to conduct my business in a unique manner. Clients are constantly pouring in to seek my assistance. "You see, if you make them feel at ease, they will always return," she explained, adding, "For example, a sofa set in the room where I treat my clients is worth Sh350,000." There are multiple sets in the room.
"In a day, the minimum number of clients I receive is between 60 and 80," Mutheu says. She charges each 'consultation fee' of Sh1,000 and claims she never fails because "witchcraft is action." With at least 60 clients, she earns Sh60,000 per day in 'consultation fees,' amounting to Sh1.8 million per month. Her clients include politicians, businessmen, and corporate executives.
Mutheu only asks for "pictures via WhatsApp or email and could tell them their problems and heal them through the pictures" from clients who live outside of the country.
"My mother taught me how to trade, and she also told me that I could because the spirit of witching was inside me when I was born." "I have no regrets," she says, adding that she has successfully eradicated crime in her hometown.