Man Arrested Trying to Bribe KDF Recruiting Officer
Officers have since warned that the recruitment exercise will be conducted fairly, with anyone attempting to bribe likely to face charges.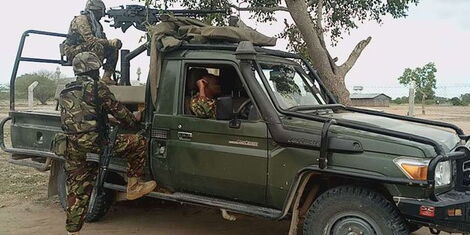 A file photo of KDF soldiers during a patrol in Kotile town on the Garissa-Lamu-Somalia border, as part of the Linda Boni operation aimed at flushing out Al-Shabaab terrorists. /KENYANS.CO.KE
Police in Seme, Kisumu County are holding a youngster who allegedly attempted to secure his Kenya Defense Forces [KDF] recruitment through bribery.
The young man had reportedly written on under his foot 300, the amount he intended to 'grease' the recruiting officer's hands with.
He was nabbed on Thursday, during a recruitment exercise conducted in Kombewa grounds, Seme Sub-county. The man was arrested together with his mother who had accompanied him to the recruitment exercise.
The two are now being held at Seme police station, awaiting further action.