Mother Seeks Justice After Hubby Defiles 11 year Old Daughter
A woman whose name has been withheld has revealed to this publication that she is now seeking justice for her 11-year-old daughter who was sexually assaulted by her alleged husband.
The woman who asked to remain anonymous said she gave birth to her firstborn in 2010. When the bay was three years old at the time, she was married.
"My husband sexually assaulted our daughter last year in October. She later got pregnant. Her issue irritated me until I reported the matter to the police but unfortunately, he got released after 4 months."
The woman went on to say that, by terrible luck, she too became pregnant at the same time. Knowing that the pregnancy would interfere with her plans for justice, she attempted to terminate the child.
"I tried aborting the child but it was unsuccessful".
"My baby girl gave birth this year and were supposed to go for a DNA test in August this year to verify if my hubby is the biological father of our grandchild but my hubby went missing and any time I could go to court am told I need a warrant but unfortunately at the moment I have also given birth and I can't do any much to help my daughter get the justice she deserves.
"My daughter gave birth via Cesarean Section because she was still immature and as at the moment I have been performing both fatherly and motherly roles".
Cesarean delivery (C-section): is used to deliver a baby through surgical incisions made in the abdomen and uterus.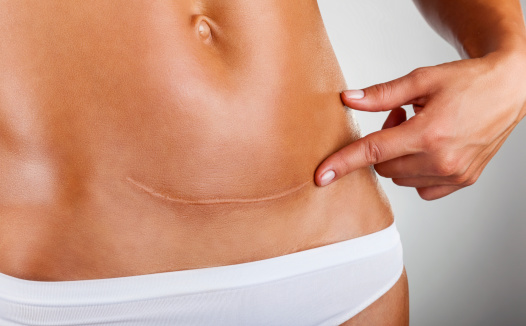 A stitched lower abdomen after Cesarean delivery PHOTO FILE
Recounting how her daughter is struggling to heal.
"My daughter gave birth via Csection she is still in pain since the wounds are still fresh and I do not know how to help, her my journeys to the corridors of justice have been futile". She concluded.