MPS Approves Malonza`s Nomination After Rejection
Members of Parliament on Wednesday 26th Approved the nomination of tourism and Wildlife Cabinet secretary Peninah Malonza a day after she was rejected.
This came after Moses Wetangula, the speaker of the National Assembly, asked the members whether they agreed with the committee's unanimous recommendation to reject Malonza but all agreed to her approval in a bid to give her a chance to work in the industry to show her efforts. Malonza was rescued from the axe after Irene Kasalu, a Kitui Woman representative, then got up to make a motion to have the nominee approved by the house.
While proposing the motion, Kasalu characterized Malonza as brave and having unquestioned honesty.
She emphasized Malonza's background in public service, especially her time spent as Kitui County's deputy governor.
"In view of the house decision today and the approval of the appointment of Peinah Malonza as the CS for Tourism, Wildlife and Heritage and the requirement for an unequivocal decision of the National Assembly on such matters, I beg to move that pursuant to the provisions of article 122 (2) of the constitution and section 3 and 8 of the Public Appointments Act of 2011, that this House approves the appointment of Peninah Malonza as the CS Tourism, Wildlife and Heritage," she stated.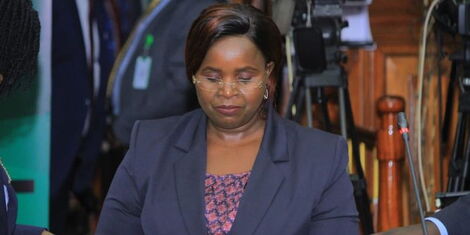 Tourism CS nominee for Tourism, Peninah Malonza during vetting in Parliament on October 19, 2022.
Dr. Robert Pukose, a member of parliament for Endebess, seconded the motion therefore following the motion, the speaker posed a query to the attendees who had just unanimously approved Malonza by way of an acclamation.
Malonza failed to exhibit awareness of current, procedural, and technical concerns pertaining to the tourist and wildlife docket, according to the committee's findings.
Penina`s disapproval on Tuesday 25th came after the Mps indicated that she failed to demonstrate knowledge of topical, administrative, and technical issues related to the docket of tourism and wildlife.
"The nominee lacks requisite abilities and experience to serve as the cabinet secretary for Tourism, Wildlife, and Heritage," the committee reported.
However it is alleged that after the CSs approval by the National Assembly, President William Ruto will formally approve the appointments on Thursday 27th October at State House.