Muslim Clerics Applaud President Kenyatta For Respecting Islamic Prayer Call
Kenyatta won the attention of the mourners who clapped thunderously after he resumed his speech. By observing a moment of silence, Kenyatta demonstrated how he never discriminated against any religion.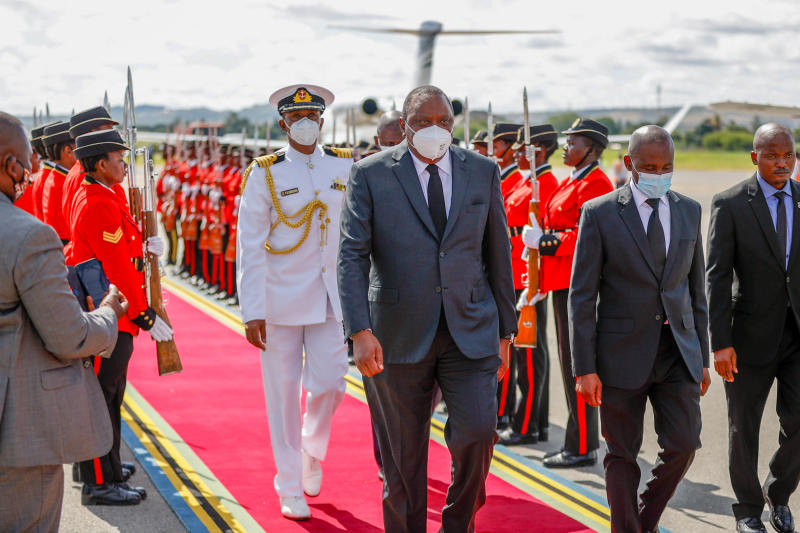 Kenyatta when he arrived in Dodoma on March 22. [Photo/ Courtesy]
Religious leaders drawn from the Islamic community have congratulated President Kenyatta over his amazing code of conduct during fallen Tanzanian President Magufuli's memorial on Monday.
The Kenyan president had just taken to the podium at Jamhuri grounds, in Dodoma, to eulogize his colleague Magufuli when he heard Adhan.
Adhan is a prayer call by the Islamic religion, done to signal Muslims that it's time to pray. Upon hearing the call, President Kenyatta had to cut short his speech for about two minutes, paving a way for the prayers.
Muslim community led by the East African Community (EAC) Cabinet Secretary (CS) Mohammed Aden who had accompanied the president to Dodoma commented on his gesture.
Further, the Council of Imams and Preachers of Kenya Organising Secretary Sheikh Mohammed Khalifa noted how the president showed extreme respect to Muslim society by pausing his speech to allow for the prayers.
"We thank President Kenyatta for representing Kenya in Tanzania. He has shown the East Africa Community chairmanship, love, unity and support. He does not discriminate. He has shown his respect for Muslims...," stated Sheikh Mohammed.
According to the leaders, President Kenyatta demonstrated his value for all denominations. Other than the Muslim leaders, Kenyans flocked to Twitter commenting on Kenyatta for such a demonstration.
Kenyatta was among several leaders who had arrived in Dodoma, Tanzania to pay their last respects to the fallen president Magufuli.
Magufuli who died on March 17 will be laid to rest at his home in Chato, on Friday, March 26, as opposed to the earlier announcement that stated he will be buried on Thursday, March 25.