ODM Leader Raila's Photo Beside What Looks Like an Oxygen Machine Stirs an Online Talk
Raila has been recovering at home, after he tested positive for the Covid-19 pandemic on March 11.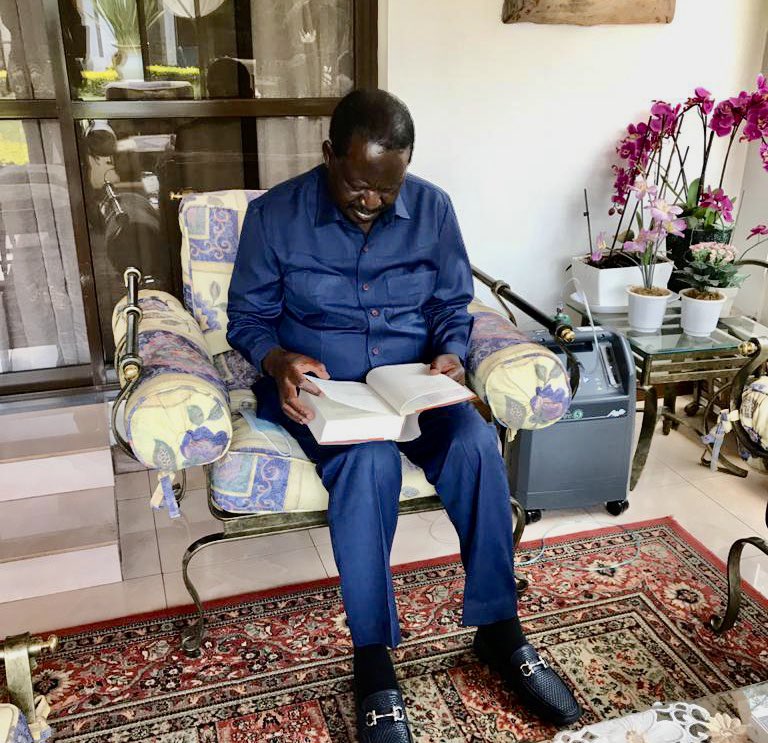 A recent photo of Raila at home reading a book from Ochoro Otunnu. [Photo/ Twitter]
Orange Democratic Movement (ODM) party leader Raila Odinga is among those dominating online whispers by the Kenyans On Twitter (KOT) after his recent photo went viral.
In the photo forming a better part of the online talk, Raila can be seen seated at his home reading a book. On his left side is what Kenyans speculate could be an oxygen machine.
In the photo caption, Raila stated how he had been visited by the New York attorney Ochoro E.Otunnu, who also relayed quick recovery wishes by the Democratic Republic of Congo President Felix Tshisekedi among other diaspora friends.
With the presence of what is speculated to be an oxygen concentrator, Kenyans on Twitter could not hide their worries about Raila's health although he appeared okay from the photo.
The machine is reportedly associated with patients who may need constant oxygen supply whether at home or hospital. The device collects the surrounding air, filtering the oxygen and purifying it for use by the patient.
Medics say that whenever a patient's oxygen supply drops below 90%, a machine is assigned to help in airflow. Most Covid-19 patients have reportedly been recording a 70% oxygen concentration, prompting the use of oxygen machines.
The ODM principal tested positive for the Covid-19 on March 11 at Nairobi Hospital, where he had been admitted after complaining of fatigue among others.
A few days later, Raila was discharged and ordered to isolate at home. Not so long afterward, he again went to the hospital but his personal medic dismissed his sickness rumors stating that it was just a regular check-up.
Raila was reportedly ordered by medics to continue isolating at home.