Ol Kalou Traders Counting Losses After Demolitions By the Kenya Railways
Kenya Railways has in the recent past been staging demolitions in efforts to reclaim the parastatal's land illegally occupied by the public.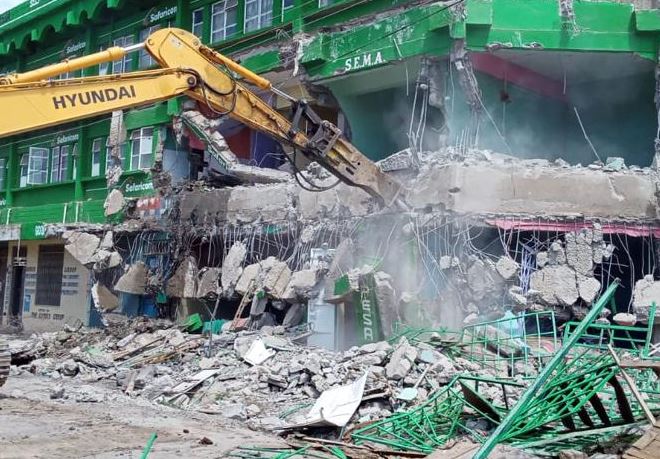 A building being pulled down in Ol Kalou. [Photo/ The Standard]
Traders in Ol kalou trade centre are lamenting after losing millions of money after bulldozers from the Kenya Railways descended on their business premises.
On Tuesday, traders woke up to unforeseen sight only to find bulldozers busy pulling down the structures said to be seated on the corporation's land.
Traders staged demonstrations arguing that the Kenya Railways issued no notification over the demolitions and that some had leased the land for a certain duration of time, with even written agreements.
"We were not given any notice to vacate and we woke up as usual to open our businesses...," lamented one of the traders unable to hide shock over the demolitions.
Traders said that they will be moving to the court to have the parastatal organ compelled to compensate them over losses incurred.
They maintained having leased the land from Kenya Railways and that they had lost millions of money from the demolitions which they were not even notified about.
Nyandarua Woman Representative Faith Gitau described the demolitions as uncalled-for, adding how they had costed jobs for about 500 people.
Ms. Faith noted that there is no way the government should render people jobless through the demolitions. She called upon the Kenya Railways to come up and justify the demolitions, failure to which she will lead the business owners in seeking legal redress.