"Please take anything but spare our lives," Slain KBC Journalist's Husband Recalls Begging Her Killers
The journalist's murder has continued raising numerous queries over why she was the target among all those present including her husband and children.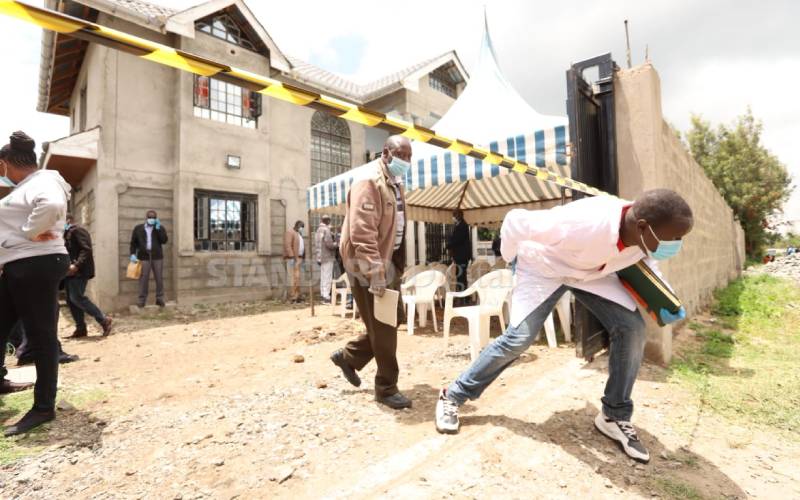 Detectives at Ms. Betty's home. [Photo/ File]
In what Ms. Betty Barasa's family is yet to admit, the husband to slain journalist recalled how he pleaded with the killers not to harm them.
Mr. Barasa now a widower is still wondering why the killers had to pluck out his wife's life, leaving everybody else present.
The husband recalled how even tried to go upstairs with Betty's killer pleading on behalf of his wife before he was ordered back or else face the wrath.
Having nothing else but to obey, Barasa retreated back to the living room, while his wife went upstairs to their bedroom with his killer.
Moments later, they heard two gunshots before the assassin came downstairs stating that he had already been done with her. "Huyo nimemalizana naye," stated the killer loosely translated to mean "I am done with her"
The most amazing bit is how the killers hurriedly left but not before they had warned Mr. Barasa against raising an alarm or else they wipe the entire family.
Barasa then rushed to their bedroom only to find his dear wife lying in a pool of blood and this time dead. Whatever Betty and her killer discussed upstairs still remains a mystery.
Why she got shot dead despite her not resisting her killer's orders further adds more mystery, and why she was singled out of everyone else present is another concern.
The deceased will be laid to rest on Wednesday, while detectives still carry on with investigations in efforts to trace Ms. Betty's killers.
Worst of all is how the goons were masked, and wore gloves such that they never left fingerprints on anything they touched.
Further, the killer was keen not to leave the spent cartridges upstairs, which would have been used in forensic analysis to trace the killer's profile.
Was it just a mere murder, or were the killers after crucial information or valuables from the deceased? That is among the questions detectives have continued scratching their heads about.