Tbt Campaign Photo Of Uhuru Under Heavy Rains With Low Fuel Prices Background Resurfaces
The recent price hike has left many Kenyans reeling in pain, adding agony to the already painful wound that has been caused by the dwindling economy.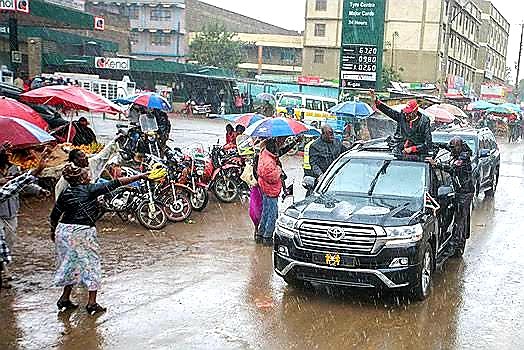 President Kenyatta in a past 2017 campaign under heavy rains. [Photo/ File]
Remember when President Kenyatta was conducting his campaigns under heavy rains in 2017? A few citizens can also be seen braving the pounding raindrops to listen to Kenyatta's campaign agenda.
The old caption is back and doing rounds across the social media platforms. However, it is not the issue of the president campaigning under rains, but the background photo that has stolen Kenyans' attention.
"Remember Uhuru Kenyatta campaigning in the rains? Look at the fuel prices behind him...," read the tweet by @e_lumumba.
Behind the president is a photo that indicates low fuel prices. By then, kerosene, diesel, and petrol was trading below Sh103 per litre.
The past incident that reportedly occurred in Nyahururu has left Kenyans blasting President Kenyatta for not living to his promises.
One of the Kenyans tweeted how greed for external borrowings by President Kenyatta's regime has led to huge debts, pushing taxes high in attempts to service the loans.
Another Kenyan sarcastically noted how Uhuru pledged to grow the country's economy to double-digit, adding that the present situation is what the president meant.
The photo resurfaces at a time when mixed reactions have continued surrounding a recent decision by the Energy and Petroleum Regulatory Authority (EPRA) that saw hiking of fuel prices.
Defending the hike, EPRA pointed an accusing finger at the rising importation cost. The new prices that took effect on Monday midnight saw a rise of between Sh5 and Sh7 for kerosene, diesel, and petrol.