CJ Aspirant Prof. Mbote Put To Task Over Unavailable Wealth Status For Her Husband
In the section that requires one to avail details for their partner's wealth, the aspirant had not indicated anything.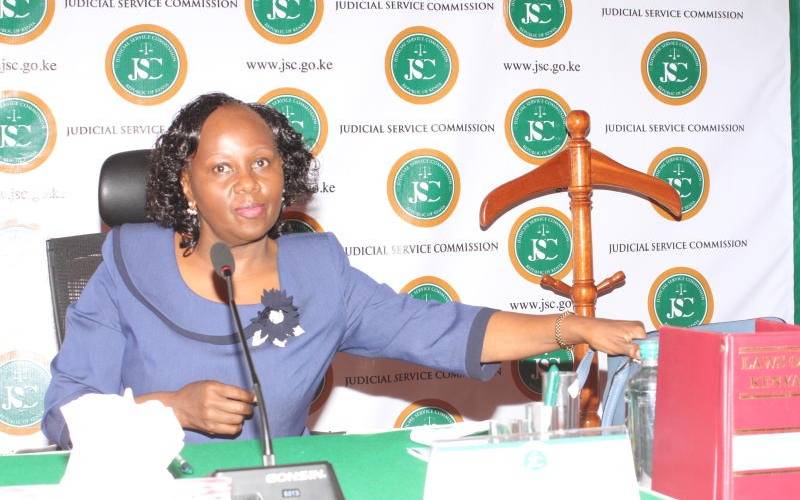 Prof. Mbote appearing before JSC panel on April 13, 2021. [Photo/ The Standard]
One among ex-CJ Madaga's successor aspirants Professor Patricia Mbote on Tuesday found herself on the receiving end after failing to provide her husband's wealth information.
The applicant reportedly ignored part of the application that requires all applicants to submit wealth information for their marriage partners as well as theirs.
"...the wealth declaration form goes beyond the officer it covers their family members. In form 2B paragraph eight that you're required to fill, why didn't you file for your spouse?" posed JSC official Ms. Evelyn Olwande.
Professor Mbote responded by stating that she didn't know whether the form required her to fill in her husband's wealth details too.
The professor is among three female aspirants, out of the total 10b candidates seeking to succeed retired Chief Justice (CJ) David Maraga.
Conferred as a Senior Counsel (SC) in 2012, the aspirant has legal experience stretching to about three decades. She also at one time served as the dean at the University of Nairobi (UoN) Law School.
She becomes the second to appear before the Judicial Service Commission (JSC) panel. Justice Said Chitembwe faced the panel yesterday.