Musician's Funny Performance Behaviors Arouse Queries Over His Mental State
A petition has since been launched compelling authorities to ensure that the artist refrains from employing such performance tactics deemed risky for him and the public too.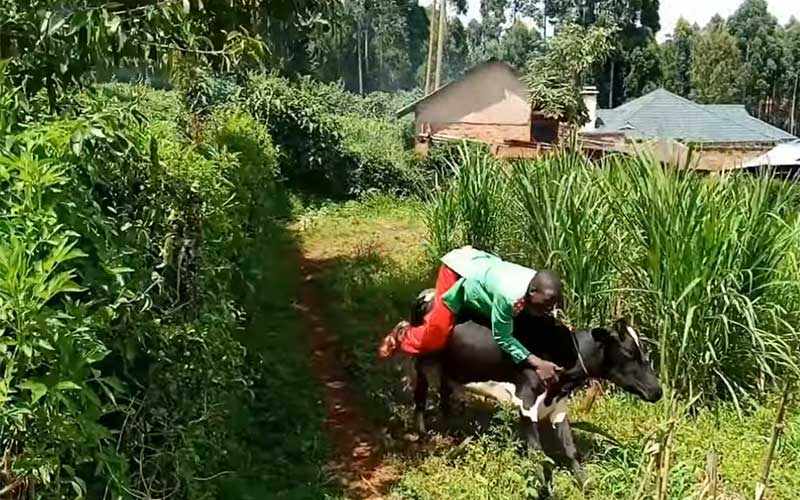 Musician Chris Mosiama riding on top of a cow. [Photo/ The Standard]
A musician drawn from Kisii County is the talk of the town, following his latest release that has left viewers with more questions than answers.
In his song entitled ''Embarambamba live performance from the forest na ng'ombe', artist Chris Mosioma alias Embarambamba is seen dashing across a garden, at some point jumping on top of a cow that appears scared.
The cow can be seen speeding while he is on top, before losing his grip and falling to the ground. In a separate part yet, the artist appears lying in the mud.
His performance tactics have now drawn public attention, with some people seeking to have him restricted from undertaking such things.
Addressing the Ministry of Health, Psychiatrists' Association, Film Classification Board (KFCB), Kisii Elders, Kenya Mental Health Board among others, the petition laments that artist Embarambamba may not only be a threat to himself but also to his fans too.
"Nguzo Africa on behalf of concerned Kenyans hereby petition to urgently stop the Kisii artist "Embarambamba" from performing peculiar stunts that may affect his safety, followers, and the environment," the petition highlights in part.
The petition is additionally pushing for the artist's mental capacity assessed, despite his confession that he gets filled with the holy spirit while performing, which causes his dramatic movements.
Further, it decries how the funny artistic moves are presenting the region's music in a bad image, robbing of the meaning of entertaining, educating, and nurturing positive societal values.