Ruto Battles CS Munya In Uhuru's Backyard
The two faced off at President Uhuru Kenyatta's home ground in Gatundu, Kiambu County during a funeral
Left: Deputy President William Ruto. Right: Agriculture CS Peer Munya. /FILE
Deputy President William Ruto locked horns with Agriculture Cabinet Secretary Peter Munya during a burial ceremony held at President Uhuru Kenyatta's home in Gatundu, Kiambu County.
It all began with DP Ruto delivering a speech to Mt Kenya leaders and residents to halt them from holding back President Kenyatta with regional politics.
Ruto affirmed Uhuru's position as the President of the whole country and claimed that he had vouched for the Head of State more than any other leader before him.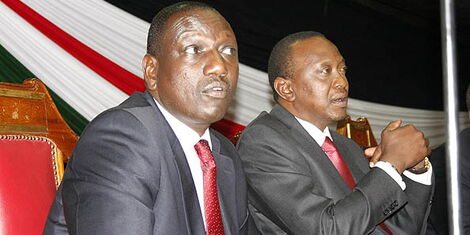 "The president is a leader of the whole country. I beg you as citizens and leaders of Mt Kenya, do not take the president away from us.
"If you say the president is the leader of Mt Kenya, who will be the president of the rest of the country. We voted for him and we love him," assured the DP.
CS Munya then cut in, publicly retracting the DP and giving him a piece of his mind while delivering a condolence speech on behalf of the President.
"We have never claimed the President serves Mt Kenya Region alone. The President is the leader of the whole country. Just the way he carries development projects across the country, he also develops Mt Kenya region". responded CS Munya.
The two were in attendance of the later mother of Thika Town MP Patrick Kimani Wainaina.
During his speech, Munya also went off target, slamming the mourners who accused him of disrespecting the decorum of the event.
"This is a very solemn ceremony. If you respect others, you will also be respected. If you humble yourself, you will be exalted.
"With a lot of respect to everybody here including the DP, this is a very solemn occasion where we are giving the last respects to one of our friends. I was sent by the President who has a right to choose who he assigns whatever functions he wishes," stated Munya.